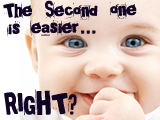 When I was pregnant with my second child, so many people told me that having two kids was going to be so much harder than just one. Like I hadn't just assumed that from the beginning? Even being whacked out on pregnancy hormones I was able to understand that logic, and it took every ounce of my limited self control to refrain from kicking them in the shins. Really, who says that kind of thing to a crazy pregnant lady? But I digress…
Some lovely ladies are having their second kids and there's a fun shower going on for them: Her Bad Mother, Mrs. Chicky, and Mrs. Chicken.
So what's my favorite assvice I was given about having 2 kids? Well in addition to the above, I got a lot of strange comments, but instead I think I'm going to give assvice instead!
Live it up! Having more than one kid is so much fun! It can be tricky at first while you get used to the new regime, but it is so great when they're old enough to play together. Not having to be your child's preferred playmate all the time is wonderful.
So don't listen when people say things like "How do you do it?" or "Better you than me!" Having more than one kid is a blast.
—
Want to join in on the shower fun? Just get the details and then write your post by Sunday.